The Braselton Brothers were certainly enterprising men. Even so, it is doubtful they would envision the mecca for wine and golf their little town would one day be. It is also probable they would be shocked to learn of the hotspot for luxury living that Braselton is. Steeped in a unique history that includes movie stars and Guinness World Records, Braselton offers residents a truly wonderful place to live.
Apart from the attraction of the winery, the Braselton Georgia Real Estate has experienced tremendous growth in the last 25 years.
Braselton GA Real Estate
Braselton Georgia is spread across four counties: Jackson, Hall, Gwinnett, and Barrow. With a growing economy and an ever-growing and bustling medical district, Braselton is a great place to live or start a business. Its proximity to Atlanta makes travel a breeze. There are many opportunities for commercial and residential Real Estate Development in the area. As the historic district expands and more small businesses emerge, the need for housing grows too.
Tourism spurs residency!
Every year, more than half a million visitors from all over the world head to Braselton. Why? Is it to visit Château Élan Winery and Resort for world-class golfing and wine? Gorgeous vineyards sprawl against the exquisite rolling North Georgia foothills. Architecture is reminiscent of the French Countryside. The popular resort also features a European-style health spa. Many choose to take a look at the luxurious residential property options.
Chateau Elan's original concept, "celebrating life and all the best it has to offer", is alive and well. Within the 3500-acre gated residential community, luxury homes dot the landscape. From the wooded private estate homes along with the stunning Woodlands Golf Course to the up-and-coming abodes we will soon see in the new Covered Bridge community. It's exciting to see more and more new construction in the Chateau Elan community and all around Braselton.
Largely because of the success of Chateau Elan, more communities have added to the growth of the area. Reunion Golf and Country Club is among several other very popular neighborhoods. The area is bustling with restaurants and shops. As mentioned, the revitalized downtown, complete with a built-in amphitheater is a popular weekend spot.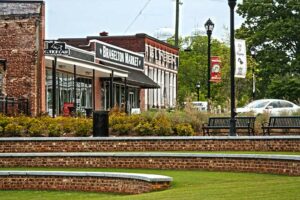 A Wealth of Attractions
Braselton and its surrounding areas offer a lot of interesting attractions to enjoy! Locals and tourists alike will love the diversity. The Mall of Georgia, which is a major shopping destination for the entire state, is in nearby Buford. Here you can shop well-loved and luxury retail brands like Coach, Armani Exchange, Barnes & Noble, JCPenney, and Dillards, just to name a few. Surrounding the mall, shoppers will find World Market, Best Buy, and nearly every other known chain store.
Braselton is centrally located to enjoy day trips to the nearby mountains in North Georgia. Residents love boating on Lake Sidney Lanier. A recent expansion by the Atlanta Botanical Gardens has brought flora and fauna to close-by Gainesville. Enjoy concerts in Duluth, just a few exits away at the Infinite Energy Center.
You won't even have to go that far if you're looking for art and antiques or you want to grab a bite – Downtown Braselton features an eclectic selection of shops, restaurants, and services. The district is also notable for its many historic buildings, many with beautiful, detailed renovations. This gives the town a charming, turn-of-the-century feel.  We love both Jack's Local Station and the Cotton Calf Kitchen in the downtown district.
If you're itching for an activity that'll get your adrenaline pumping, head on over to Road Atlanta, a multi-purpose motorsports facility with one of the best road courses in the world. Road Atlanta hosts events like the Superbike Showdown and Motul Petit Le Mans.
Braselton is also where you'll find the Mayfield Dairy Visitors Center. Enjoy a cool treat at the ice cream shop and browse Mayfield merchandise at the gift store.
Excellent health care
Braselton is home to the first brand new hospital in Georgia in the last 25 years. Northeast Georgia Medical Center | Braselton is a state-of-the-art full-service hospital.  With 110 beds, a Labor and Delivery wing, and a heart center, the hospital is a huge asset to the community. It's also one of the better places for a healthy, delicious, and inexpensive lunch in the area. The NGMC Campus employs nearly 1000 people and brings excellent opportunities and growth to the already booming community. With the employee base and the excellence the NGMC name is known for, the facility is responsible for a surge in new residents. Nearby Deaton Creek is a retirement community. The residents feel more confident with the close proximity of both doctor's offices and the hospital.

To learn more about Braselton and what it has to offer, please visit www.braselton.net. To learn more about Chateau Elan, visit the resort website at www.chateauelan.com. Information about Reunion Golf and Country Club is available right here on our website.
For all your Braselton Georgia Real Estate needs
For more than two decades, Ben Harrison has helped home buyers and sellers within the gates of Chateau Elan. Since the first homes broke ground, Ben has been a fixture in Chateau Elan real estate. Along with Patti Curtis's ample experience, buyers and sellers are in great hands! Today, Sun Realty Group is one of the top-trusted agencies in the Braselton, Hoschton, and Flowery Branch areas. Please explore our website for available properties or contact the agents at Sun Realty Group today!